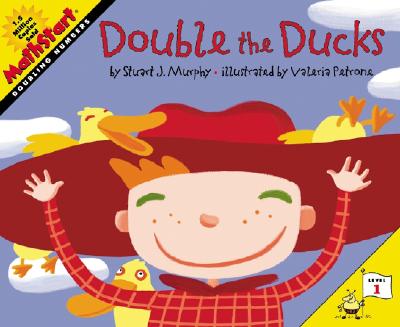 Description
---
Help kids with their math skills plus their reading skills with the engaging and fun MathStart series!
Doubling the Ducks is perfect for teaching doubling numbers to pre-K through kindergarteners. It's hard work, taking care of 5 little ducks. But when each little duck comes home with a friend—oh, no! Now it's double the ducks and double the work. How can 1 little boy get everything done? Understanding how to double numbers helps children master both addition and multiplication. Fun, friendship, and lots of ducks make learning this essential skill both easy and entertaining.

Kids will love the story and the illustrations by Valeria Petrone. Parents and educators will love how the story and pictures make understanding the math concepts a breeze—as well as the concrete examples of how math works. The book contains activities for adults to do with kids to extend math into their own lives. Math = Fun!
MathStart is an award-winning series by Stuart J. Murphy that teaches math through stories and visual models. Young readers find the stories engaging and relatable, because each story revolves around practical applications of the math concept being presented and features lively art from top-notch illustrators.
Charts and other visual representations help children understand how the math works and promote deeper comprehension. This unique combination of stories, illustrations, and visual models helps teachers and parents in the teaching of math and provides all children with the opportunity to succeed.
The 63-book series is divided into three levels with 21 books in each. The math concepts taught in MathStart books conform to state and national standards. Level 1 is Pre-K–Kindergarten; Level 2 is Grades 1–3; Level 3 is Grades 2–4. The series follows math topics across grades so there is a foundational path to learning that runs through the levels.
About the Author
---
Stuart J. Murphy is a visual learning specialist. A graduate of the Rhode Island School of Design, he has a strong background in design and art direction. He also has extensive experience in the world of educational publishing. Drawing on all these talents, Stuart J. Murphy brings a unique perspective to the MathStart series. In MathStart books, pictures do more than tell stories; they teach math.
Stuart J. Murphy and his wife, Nancy, live in Boston.
You Can't Order Books on this Site
***Hello Customers! We are in the midst of moving to our new site at www.unionavebooks.com. Please navigate to that link in order to place new online orders. Again the cart feature on this old site is no longer functional.***