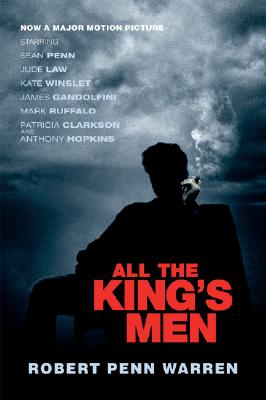 $15.00
Email or call for price.
Description
---
Winner of the Pulitzer Prize
Movie Tie-in Edition

When All the King's Men was first published in 1946, Sinclair Lewis pronounced it "massive, impressive...one of our few national galleries of character." Diana Trilling, reviewing it for the Nation, wrote, "For sheer virtuosity, for the sustained drive of its prose, for the speed and the evenness of its pacing, for its precision of language...I doubt indeed whether it can be matched in American fiction." The Washington Post declared, "If the game of naming the Great American Novel is still being played anywhere, Warren's All the King's Men would easily make the final rounds."

Set in the 1930s, this Pulitzer Prize-winning novel traces the rise and fall of demagogue Willie Stark, a fictional character who resembles the real-life Huey "Kingfish" Long of Louisiana. Stark begins his political career as an idealistic man of the people but soon becomes corrupted by success and caught between dreams of service and an insatiable lust for power. As relevant today as it was more than fifty years ago, All the King's Men is one of the classics of American literature.
Praise For…
---
PRAISE FOR ALL THE KING'S MEN

"Over the course of more than two centuries of vivid political history, there is perhaps only one full-blooded American novel of politics that plunges deep into the hearts of its characters and therefore into the hearts of its readers, thus rising to the top ranks of American fiction. That is Robert Penn Warren's lush All the King's Men."--Los Angeles Times Book Review

"It's a measure of the enduring worth of All the King's Men that Willie Stark has entered our collective literary consciousness, in the company of Captain Ahab, Huck Finn, Jay Gatsby, Holden Caulfield, Rabbit Angstrom, and very few others."--Joyce Carol Oates, The New York Review of Books
You Can't Order Books on this Site
***Hello Customers! We are in the midst of moving to our new site at www.unionavebooks.com. Please navigate to that link in order to place new online orders. Again the cart feature on this old site is no longer functional.***