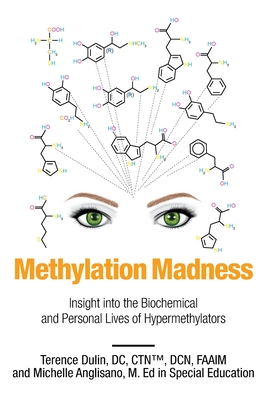 $22.95
Usually Ships in 1-5 Days
Description
---
To methylate or not to methylate? That is the question Methylation chemistry has received tremendous attention recently due to the discussions circling around the MTHFR gene. Methylfolate and methylcobalamin (Methyl B12) are nutrient supplements being recommended more often, as of late. Many medical conditions can possibly be exasperated due to the lack of these nutrients or improper metabolism. But are they?
Understanding the reasoning behind this thought is actually one for concern. Heart disease (arterial sclerosis) and other medical conditions can be traced back to the biochemical methylation pathway. Problems with the protection of DNA can also be associated with this pathway. Mutations may, in fact, occur due to this very set of biochemical pathways. However, is it correct for everyone to be taking methylfolate and methylcobalamin (Methyl B12)? Does it match every individual's chemistry?
Methylfolate and methylcobalamin are just some of the molecules that are part of this story, but not the entire answer. MTHFR is just one gene that is part of a vast and complex methylation system.
In this book, the authors give a clear description for easier understanding of the who, what, and why of methylation chemistry. It brings to light the very question of a methylation issue some people may have. Through candid conversations between hypermethylators and by relating the symptoms and effects of methylation, the reader can gain a better perspective of living with the symptoms of hypermethylation within this selected group. In addition, this book provides a generalized understanding of the biochemical processes, which are the underlying causes of the symptoms of hypermethylation. Other conversations with a doctor who has expert knowledge of methylation chemistry further expounds upon this complexity. Hypermethylating people are those who should be very careful when using methylating nutrients or when eating foods which are methylating. Are you a hypermethylator?
You Can't Order Books on this Site
***Hello Customers! We are in the midst of moving to our new site at www.unionavebooks.com. Please navigate to that link in order to place new online orders. Again the cart feature on this old site is no longer functional.***