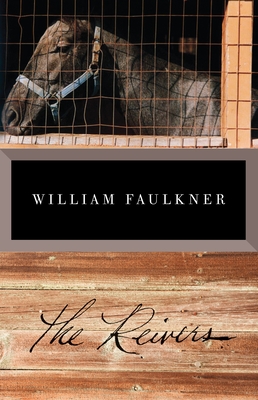 $16.95
Email or call for price.
Description
---
One of Faulkner's comic masterpieces, The Reivers is a picaresque that tells of three unlikely car thieves from rural Mississippi. Eleven-year-old Lucius Priest is persuaded by Boon Hogganbeck, one of his family's retainers, to steal his grandfather's car and make a trip to Memphis. The Priests' black coachman, Ned McCaslin, stows away, and the three of them are off on a heroic odyssey, for which they are all ill-equipped, that ends at Miss Reba's bordello in Memphis. From there a series of wild misadventures ensues—involving horse smuggling, trainmen, sheriffs' deputies, and jail.
About the Author
---
William Faulkner, one of the greatest writers of the twentieth century, was born in New Albany, Mississippi, on September 25, 1897. He published his first book, The Marble Faun, in 1924, but it is as a literary chronicler of life in the Deep South—particularly in the fictional Yoknapatawpha County, the setting for several of his novels—that he is most highly regarded. In such novels as The Sound and the Fury, As I Lay Dying, Light in August, and Absalom, Absalom! he explored the full range of post–Civil War Southern life, focusing both on the personal histories of his characters and on the moral uncertainties of an increasingly dissolute society. In combining the use of symbolism with a stream-of-consciousness technique, he created a new approach to fiction writing. In 1949 he was awarded the Nobel Prize for Literature. William Faulkner died in Byhalia, Mississippi, on July 6, 1962.
You Can't Order Books on this Site
***Hello Customers! We are in the midst of moving to our new site at www.unionavebooks.com. Please navigate to that link in order to place new online orders. Again the cart feature on this old site is no longer functional.***