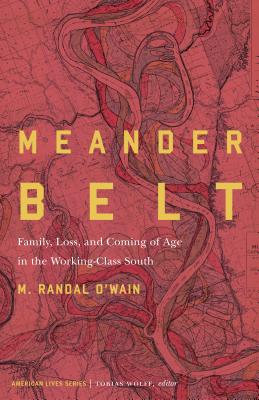 $19.95
Usually Ships in 1-5 Days
Description
---
In Meander Belt M. Randal O'Wain offers a reflection on how a working-class boy from Memphis, Tennessee, came to fall in love with language, reading, writing, and the larger world outside of the American South. This memoir examines what it means for the son of a carpenter to value mental rather than physical labor and what this does to his relationship with his family, whose livelihood and sensibility are decidedly blue collar. Straining the father-son bond further, O'Wain leaves home to find a life outside Memphis, roaming from place to place, finding odd jobs, and touring with his band. From memory and observation, O'Wain assembles a subtle and spare portrait of his roots, family, and ultimately discovers that his working-class upbringing is not so antithetical to the man he has become.

 
About the Author
---
M. Randal O'Wain
earned his MFA from the University of Iowa's Nonfiction Writing Program. He is a teaching assistant professor of creative writing at the University of North Carolina at Chapel Hill and serves as a National Endowment of the Arts Writing Fellow at the Beckley Federal Correctional Institution. O'Wain is the author of the short story collection
Hallelujah Station
and his work has been published in
Oxford American, Hotel Amerika, Crazyhorse,
and
Guernica Magazine. 
For more information about the author visit 
randalowain.com
.  
Praise For…
---
"I have yet to read a book on this subject more important and honest than Hillbilly Elegy by J.D. Vance, and this seems like the perfect book to challenge that."—Gabino Iglesias, Lit Reactor
— Gabino Iglesias
"O'Wain deftly parses the larger cultural forces that shaped his youth—the heavy thumb that is family, class, place, and tradition. The result is something that straddles the line between the intimacy and immediacy of someone simply telling their story, and the perspicacity of the best cultural criticism. It's a tender, funny book with a clear vision and a true heart—I cried three times."—Juliet Escoria, Electric Literature
— Juliet Escoria
"Subtitled Family, Loss, and Coming of Age in the Working Class South, O'Wain's book is a mediation on the blue collar world that engulfed his adolescence. It studies, with tremendous intimacy, the actions of his family and the effects they had on shaping the man he would become. Beyond that, it is a window into a world often overlooked by media. A section of America described by stereotypical labels that might be true sometimes, but are often a mischaracterization."—Adam Vitcavage, Debutiful?
— Adam Vitcavage
"[Meander Belt] is a book about taking the path less traveled, about taking the hard way out, and about choosing the gloriousness of experience over the ease of tradition. It is a gritty city book about death, drugs, sleezy propositions in sticky alleyways, and the shadow of Leonard Cohen. It is a book about the inevitable heartbreak suffered between a father and son when the son is ready to become a man and the father is not ready to let him go.In the end, Meander Belt is a revelation. M. Randal O'Wain is signaling his presence to the pantheon of great North Carolina writers."—Jason Jefferies, WRAL.com
— Jason Jefferies
"I appreciate these essays because they are both narrative and essayistic, meaning that they search, seek, question, assay. I trust the narrator because he is so honest about his confusion, the ways in which he's lost in the world, the ways he is surprised by life. This is a narrative voice with a grasp of the difference between the man or boy these events happened to and the writer telling them now, but even now, he doesn't claim to know all the answers."—Julia Kastner, Pages of Julia
— Julia Kastner
"Richly textured, defiantly honest, Meander Belt plumbs lives chained to the other side of the tracks, the perils of the working poor. O'Wain is a talent to watch."—Hamilton Cain, Chapter 16
— Hamilton Cain
"William Zinsser's description of what a memoir does has always resonated with me: 'Memoir isn't the summary of a life; it's a window into a life, very much like a photograph in its selective composition.' And that's what O'Wain provides—a deliberate construction of salient moments, when read, that trigger our memories, produce their own, and linger like lived experience."—Chansi Long, Brevity
— Chansi Long
"This is a quintessential American story of overcoming a life of hardship through perseverance and self-reclamation and coming out changed without really knowing where home is, but understanding the story continues."—Anthony Clemons, Hippocampus Magazine
— Anthony Clemons
"A tour de force of white working-class identity married to a writer's imaginative hunger for words. What makes this book remarkable is the narrator's steely tension between his innate desire for unknown worlds and the pullback to the roughed up Wild West of Memphis, where a hardworking but wounded father has planted the seeds of loyalty."—Patricia Foster, author of All the Lost Girls and Girl from Soldier Creek
 
— Patricia Foster
"Randal O'Wain's memoir Meander Belt is more than the heart-wrenching story of a working-class southern family in the last decades of the twentieth century and the first decade of the twenty-first. In and through the struggles he and his family experience, O'Wain reveals the insidious effects of class and status on the most intimate aspects of American life. Meander Belt combines riveting storytelling with implicit emotional, psychosocial analysis; the result is the rarest of all books—a deeply thoughtful page-turner."—Alan Shapiro, author of Reel to Reel and Night of the Republic
— Alan Shapiro
"For all their poignant intimacy, the essays in Meander Belt are somehow also achingly universal, a self-portrait made up of wisdom and vulnerability that tells the story of a family, a place, and a culture."—John D'Agata, author of About a Mountain
— John D'Agata
You Can't Order Books on this Site
***Hello Customers! We are in the midst of moving to our new site at www.unionavebooks.com. Please navigate to that link in order to place new online orders. Again the cart feature on this old site is no longer functional.***